FSI
FSI celebrates 20 years of pioneering healthcare CMMS products
March 23rd, 2022 marks FSI's 20th anniversary. Learn about our history, how our healthcare CMMS products have evolved, and our plans for the next 20 years.
---
March 23rd, 2022 marks 20 years of FSI, a milestone we're very excited to celebrate. In our two decades of business, we've paved the way for CMMS programs and made waves in the healthcare space, revolutionizing how healthcare facilities and Biomed maintenance work.
What started as an idea has resulted in software that serves 950+ hospitals, manages over 650 million square feet of healthcare space, and inventories another 40 million square feet every year. FSI's CMMS is an ever-changing, evolving product tailored to be user-friendly and robust. Our growth mindset is made possible by the feedback we receive from our customers and by adjusting our software to help solve their problems and match their needs.
We had a conversation with our founder, Joe Serwinski, our Director of Customer Success, Joe Stockman, and our CEO, Zach Seely, to tell the full story of FSI's founding, evolution, and keys to success in healthcare maintenance.
As we celebrate our 20th anniversary, we invite you to learn about:
Origins in service
FSI was founded in 2002 based on the need for hospitals to have a turnkey solution for their CMMS. Joe Serwinski, our founder, worked in healthcare and saw this need in his work. At the start, FSI functioned as a data collections company.
In the early days, the FSI team traveled across the country visiting different facilities. The team worked on asset inventory, collecting the data, putting barcodes on the assets, gathering all the nameplate data, and putting all that information into each hospital's existing CMMS.
After about four years in the healthcare services business, the FSI team realized the hospitals' need for a well-functioning CMMS; one that provided healthcare facilities and Biomed technicians with accurate data. This led to the next phase of FSI: writing a software program that would eventually become CMS.
Evolution to software
FSI's CMS has operated in the software as a service space since day one, during a time when a lot of CMMS providers were navigating how to make that transition. CMS was created in conjunction with a client starting in 2007. FSI released CMS in 2008 and marketed it specifically towards the healthcare industry.
CMS was released with the Windows CE mobile device before the web, iPhones, or iPads existed. As new technology came out over the years, FSI stayed on the forefront, adopting and releasing products that would make life easier for our customers.
Product milestones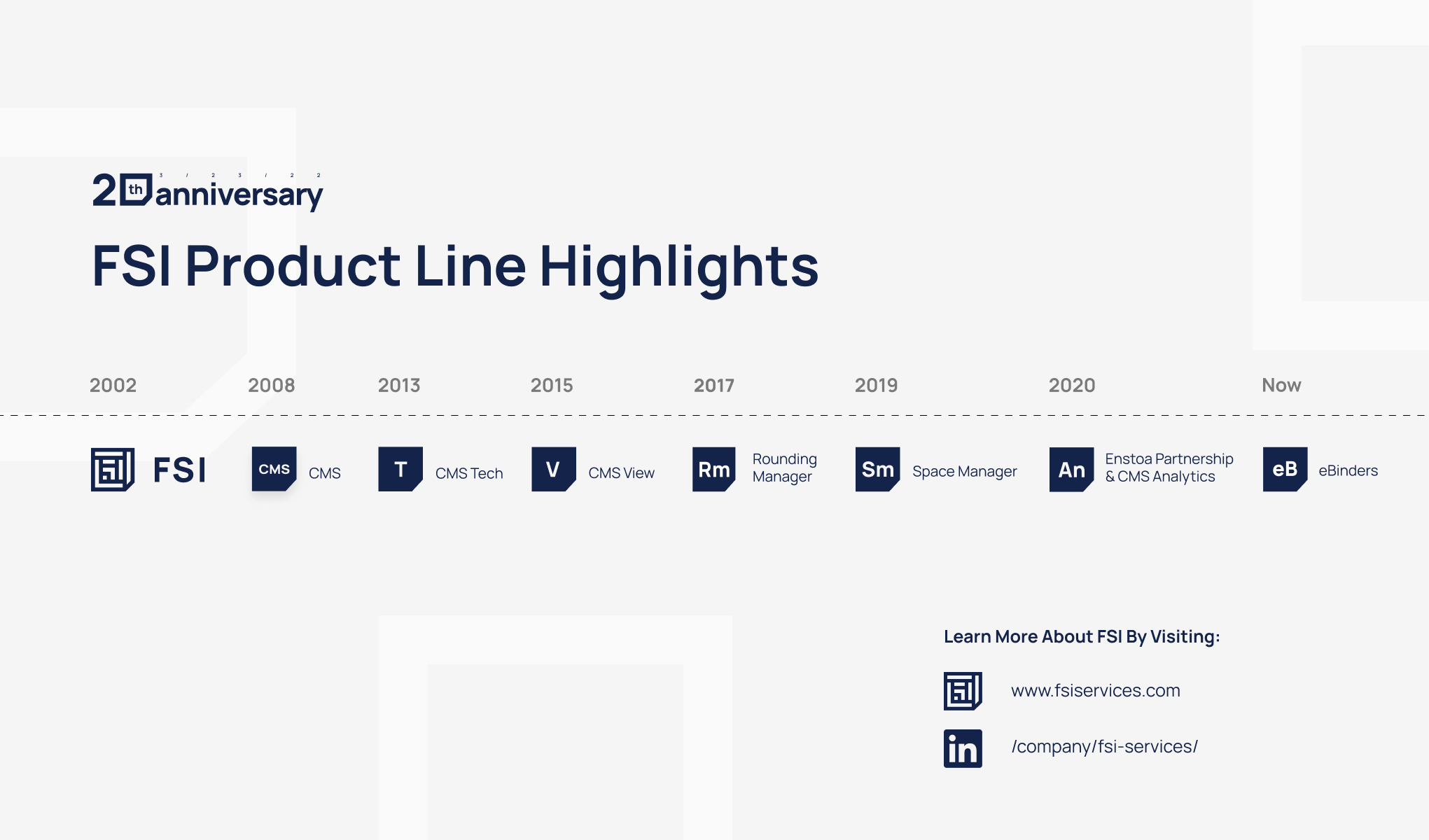 After moving from consulting and data collection services to software with CMS, FSI began to develop the CMMS to meet pain points they observed while on the road in the early days.
CMS Tech
With the invention of the iPad, FSI started working on CMS Tech, the mobile application that would allow technicians to complete their work in the field. CMS Tech was released in 2013, allowing techs to work online or offline to complete work orders, access data from any mobile device, simplify communication with automated notifications, and more.
CMS View
In 2015, FSI released CMS View to allow technicians to see where their work orders or assets are directly on each floor plan. CMS View immediately started saving users time; new team members could pick up an iPad, look at the floor plan, and know exactly where the equipment on their work order is located.
CMS Rounding Manager
While working with customers in a wide variety of facilities, one of the needs the FSI team observed was a way to easily maintain regulatory compliance. Between The Joint Commission, DNV, and local jurisdiction requirements, there's a running list of essential maintenance for facilities to cover.
FSI launched Rounding Manager in 2017 to help with this. Rounding Manager allows hospitals to eliminate paperwork and data entry with automated reporting that's accessible across all devices. Essentially, Rounding Manager allows hospitals to stay 100% compliant.
CMS Space Manager
In 2019, FSI developed Space Manager. To this day, Space Manager is a tool that differentiates FSI from competitors. Users can easily maintain accurate rooms, floors, and utilization square footage calculations for each building to ensure 100% Medicare and Medicaid reimbursements.
Enstoa Partnership & CMS Analytics
While the team was working on Space Manager, the FSI team saw a growing need for data analytics to play a stronger role in healthcare maintenance. We then came across Enstoa, an Inc. 5000 company that has extensive healthcare analytics expertise. We decided to partner together to create CMS Analytics, which launched in 2020.
This module was developed first as a collaboration between FSI and Enstoa, who both worked on a consultant job with a client before evolving into the product it is today. CMS Analytics presents data as trendlines, making it simple to understand. You can then make an impactful plan based on the data and benchmark against standards such as ASHE and AAMI.
eBinders
Releasing this year, eBinders is an addition to CMS that allows hospitals to automate their compliance reports then organize the information electronically. Facility managers can then search their records and pull required documents for inspections from The Joint Commission, DNV, and more.
What makes FSI stand apart from the competition
Customer feedback
In the face of other CMMS providers, FSI's dedication to our customers makes us stand out. Since the very beginning, every service or product developed has been to make work easier for facilities and Biomed maintenance workers.
After seeing the need in the healthcare space and creating CMS, FSI didn't stop there. We started having user conferences in 2013 and have continued to do so (barring CMS during COVID-19 pandemic) every year since.
At this event, customers fly in from across the country and join this in-person event. During this time, FSI customers get to view presentations, participate in training, see product releases, and offer their input for new software features and capabilities.
Customer Advisory Board
FSI also created the Customer Advisory Board (CAB). It's a group of individuals from different hospitals, both large and small, that get together once or twice a year. During this meeting, we lay out FSI's product roadmap.
What's more important during this meeting is listening to our customers. They all have a chance to talk about their current day-to-day problems and what the industry looks like. Healthcare is constantly changing with regulatory and compliance issues, and at FSI, we like to stay in front of that. The CAB gives us the needed insight to make our product better and more useful for the users.
Most of the features you see in CMS, CMS Tech, Rounding, and Space Manager products come from customer feedback. They come to FSI with a problem, and we provide them with a solution. Our team designs scopes of work and pieces of software around specific needs, working to make our customers' lives easier.
Partners
FSI is more than just a software vendor; we are a partner. We provide guidance, training, consulting, and other helpful services beyond the technology. Since FSI is a company created by healthcare professionals for the healthcare space, we know the industry.
All of our support staff comes from healthcare and have sat in the shoes of CMMS administrators. When you call, not only will somebody pick up the phone within seconds, but they will be familiar with your question or problem. They've been on the other side of the fence, and they know how important the work of the facilities maintenance team is.
At the end of the day, FSI is a service company that also provides software. We have customers that span different shapes and all sizes, and we service them all and treat them all equally.
Healthcare-specific
FSI is the only CMMS vendor built for healthcare because we are a team of healthcare professionals. Before FSI, our founder worked in healthcare as a facility manager at a hospital, seeing the day-to-day needs. CMS was built to address these needs.
Our support team all come from healthcare, oftentimes coming straight from facilities maintenance administration right to FSI. We don't outsource our team. It's 100% an in-house development team, 100% an in-house sales, and 100% an in-house services—all within the United States.
This means that every solution or service FSI provides is tailored to the healthcare industry versus a generic CMMS provider. We're also always evolving to meet healthcare standards. We're up-to-date with compliance regulations and any pain points our customers come across.
What FSI does best
Besides providing excellent customer service to our customers, FSI strives to make their lives easier by providing efficiency across all areas of work. We keep the non-technical user in mind when creating the software to make adoption rates easy. No one needs to be a technical genius to understand how to operate something like CMS Tech.
In addition, we provide compliance reporting. You can see at a glance how you're doing with all your compliance-related items, whether it's for TJC, DNV, or your local jurisdiction. You can view dashboards that help you see what you're working on, where you might be failing, and where you might be excelling.
With upcoming products like eBinders, FSI makes it easy for you to set up monthly reports that automatically generate and go into your document manager. You'll be able to access TJC or DNV-ready documents available as PDFs, easily downloadable from our software.
All teams can experience efficiency with FSI, from the scheduling team which can group large numbers of assets all in one type of work order to the technicians who can complete work orders on the job to compliance reporting. It's all there.
The next 20 years
Everything we do in the next two decades will be to make our customers' lives easier. We will continue to listen to our customers, solving problems with technology. We will look to incorporate more artificial intelligence (AI) to further help our customers.
We will continue to be early adopters to new and upcoming trends like we've done the past 20 years. We have a lot of ideas to make our software even better, and we look forward to making those visions a reality. We will work on long-term improvements to our software, as well as short-term gains with efficiency.
As always, our product roadmap is built from feedback from our customers, whether it's from our in-person user conferences or from our Customer Advisory Board. We're proud of our customer relationships and we think of them as friends.
Simply put, when it comes to summarizing the next 20 years at FSI, our customers are our future.