Best Practices
Maintenance Management System Best Practices for Healthcare
Using best practices with your maintenance management system CMMS will help you increase productivity and drive ROI. Here are our top 5 you can try today.
---
You're all too aware of what you need to juggle in healthcare maintenance management: your team, work orders, PM schedules, assets, compliance reporting—and that list is just some of the few high-level items on your mind daily. While a computerized maintenance management system (CMMS) helps you get the job done, it takes more than software to do everything right.
This is where best practices come in handy—something we've been developing at FSI since the beginning. In addition to providing healthcare's best CMMS, we have served 950+ hospitals in our 20 years of business. We also manage over 650 million square feet of healthcare space and inventory another 40 million square feet every year.
Many FSI employees have experience in healthcare Maintenance and Biomed, and our collective knowledge has shown us a wide variety of healthcare maintenance best practices. We have compiled a list of the top 5 that have served our customers best.
1. Standardize your asset nomenclature
When was the last time you couldn't find an asset because the naming scheme slipped your mind? This is not uncommon—after all, it's easy to slip in a period, underscore, space, or a typo if you're working quickly. So unless you wrote the name down somewhere and kept track, your assets probably have a wide variety of naming schemes—even if you try to keep a semblance of organization.
Even if you have a search function, by not having a standardized naming system, you now have to spend time cleaning up your reports and scrutinizing your data even further because you can't trust that everything is accurate. You can start to see why having a standard naming convention across all assets could be beneficial.
The most obvious benefit is how easy it'll be to identify your assets—especially if you have a hazard recall. All you have to remember is the naming scheme. You'll also benefit from accurate data. For example, if you pull a report on fire extinguishers, you know that the numbers will be accurate because you used the same naming convention across all those assets.
While renaming all your assets to a standard configuration is a daunting task, with the right resources, direction, and support, your maintenance department will be able to reap the benefits. FSI has been conducting asset tagging and renaming since the very beginning; our roots are in data standardization, and we've perfected this practice over the past 20 years.
We use a hierarchy for our naming system (manufacturer name, model number, and category) so that if you've experienced a facility purchase or can only remember the manufacturer name, you can use that to search in CMS and pull up the asset right away.
Learn more about our data migration and standardization services here.
2. Preventive maintenance scheduling, documentation, and reporting
We don't need to tell you how important it is to stay in compliance. However, we can reiterate how helpful preventive maintenance scheduling, documentation, and reporting are to achieving this goal.
By using a maintenance management system to help you manage your PMs, you can keep everything organized and ready for inspections. A system like CMS will even help you conduct risk assessment strategies on your assets, letting you identify both high-risk and non-high risk assets to prioritize your work. FSI's work order management system even lets you customize your risk levels so that you meet all the requirements set forth by the Center for Medicare, Medicaid Services, and other regulatory bodies.
With FSI's maintenance management system, you can identify what type of PM procedure or protocol you are using (OEM or AEM) and use that to help justify any AEM schedules you deploy on certain assets. You can even set up and manage your procedures by making them repeatable. This way, by the time The Joint Commission or DNV inspectors come along, you can be confident that your work is keeping you in compliance.
With a maintenance management system like CMS, you can easily conduct managerial tasks to help with your PMs. You can see how many hours are reported per technician and determine not only where time was spent, but look at upcoming PM schedules and assign work orders as you see fit to balance workloads.
3. Digitize your hospital floor plans with mobile mapping
One of the best things you can do for healthcare maintenance management is to have your hospital floor plans digitized with mobile mapping. Then, you can use a system like CMS Tech to access the floor plans from any mobile device. This will allow your team to complete their work from anywhere (more on this in best practice #4).
Not only that, but your team will always know where the assets they are working on are located—and not just the room number. They can pull up a digital map, access the correct floorplan, and see an icon that points out the exact location of the asset on the map.
FSI has CAD documentation and drawing management services to help digitize all your floorplans and assets. We turn PDFs into a usable map on any mobile device using CMS View, and if you don't have a PDF, we can use the CAD drawing and help convert everything to digital.
Once everything is mapped on mobile, CMS View allows you to access multiple floor plans, buildings, and assets on the floor plan. Your team will greatly benefit from the Spot Shadow feature, which allows anyone to identify where risk areas are based on the work that needs to be done.
For example, if you have to attend to a leak on the 7th floor, you can place the "Spot Shadow" over the asset, and it will tell you where you need to go on the 6th floor to check for additional damage—even if the floorplan is different. You basically look at a specific area/room on a floorplan and can see what's above and below that level.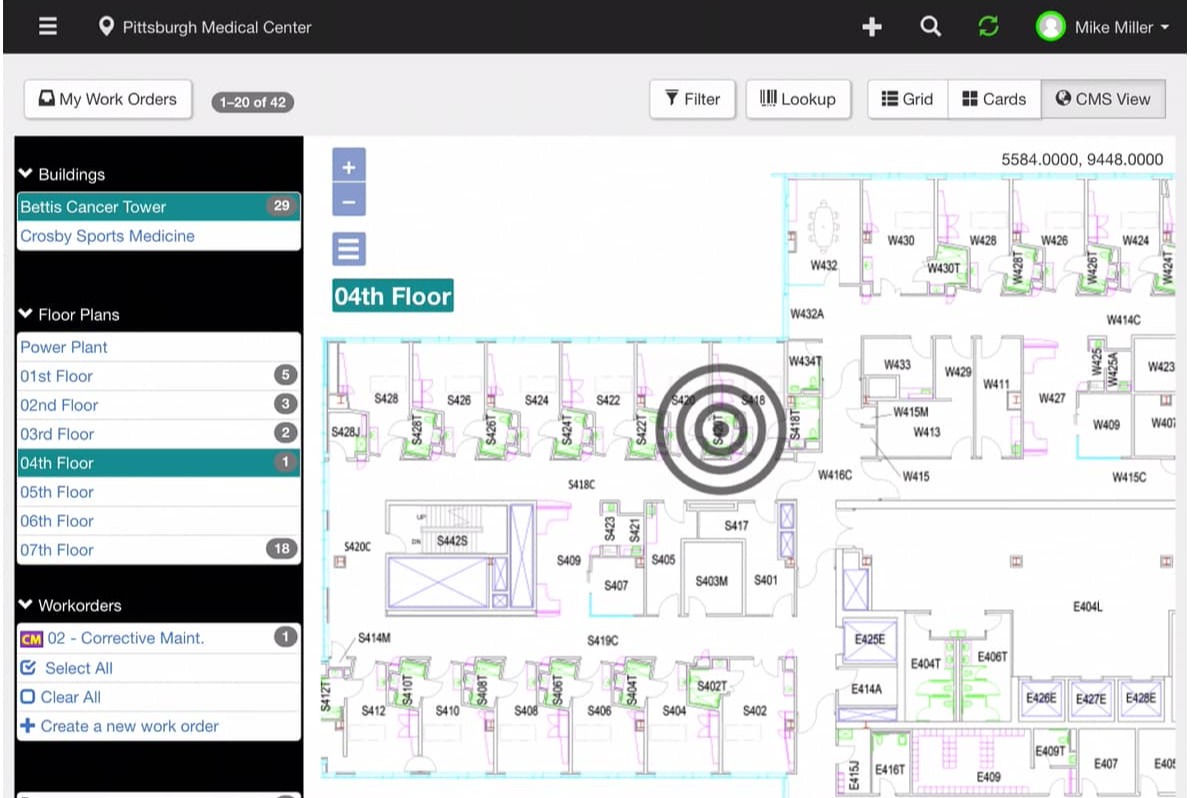 Because assets are easily viewable on the digitized floorplans, you can more efficiently plan your team's time—especially if you have someone new on the team. Instead of assigning a buddy and cutting down on efficiency, you can hand your new employee a mobile device with the digital floorplans and let them follow the maps to find the work they need to do—this has increased our clients' technician productivity, on average, by up to 50%.
The benefits of having your floorplans digitized go beyond functional maps; your team can also do their work from their mobile device. This leads us to the next best practice.
4. Use mobile devices to complete work orders
Whether your team is working on healthcare maintenance, an app like CMS Tech will allow them to get all their work done from any mobile device. Any work will also update in real-time across devices, which means you can stay up-to-date on the progress at any point.
Instead of going back to the shop for a new assignment and to close out their current work, your technicians can close out work orders from the field. They can even attach pictures or access documentation from the mobile floor plan as they work to help them get everything done.
Additionally, your facilities and Biomed technicians can view all the assets they need to work on as icons on the map and can plan their route accordingly, so they are not running all over the hospital. This will allow them to work more efficiently and even close out more work orders in less time.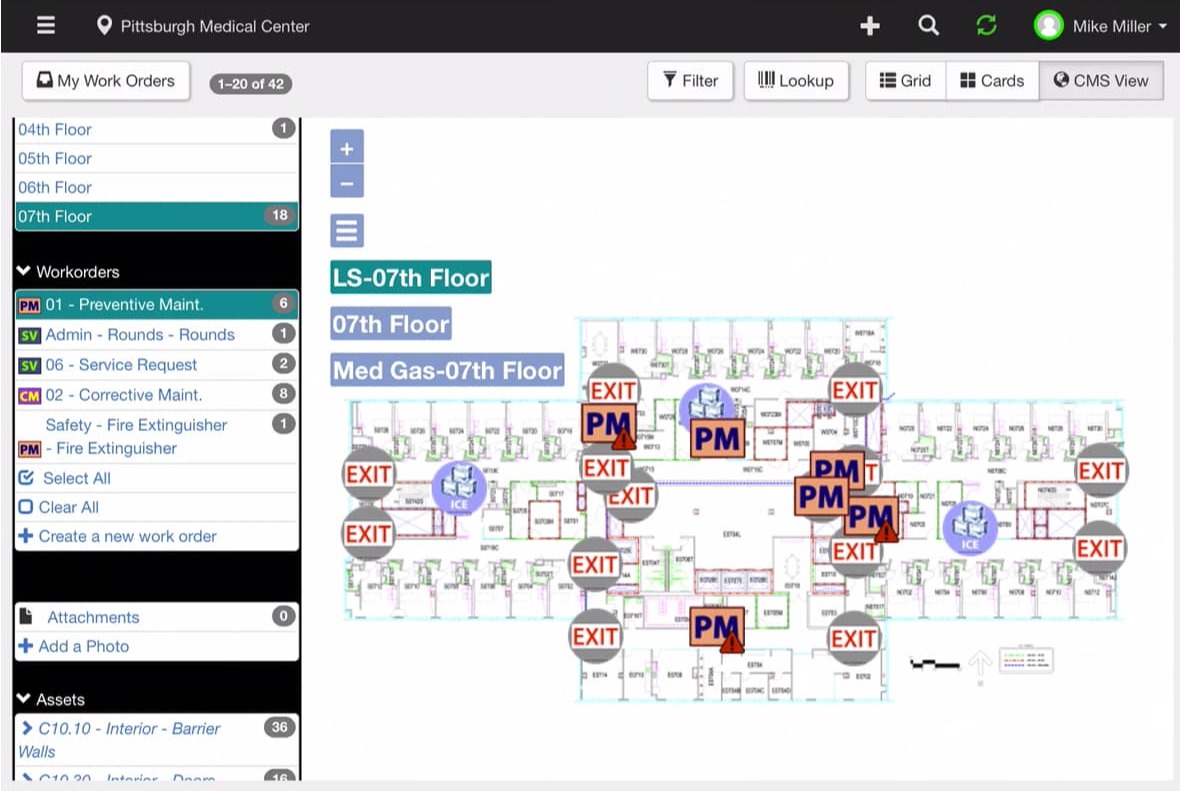 If your technicians come across a dead zone while working, they can continue to work on the mobile device. Once they get back to an area with service, everything will sync, and all their work will be saved.
Your mobile maintenance management system can also help with completing rounds—you can make notes and document any issues at the site. Everyone benefits from mobile device use. To make things more efficient, you can even allow your nursing staff to report issues or errors to the maintenance team using the tablet that is configured to CMS.
5. Take advantage of healthcare-specific analytics and business intelligence
If you follow our first best practice, it will help with this one! Once your asset names are standardized, your data will be, too. Then you'll be able to get the most out of what you are viewing because you know that it is accurate.
An analytics tool like CMS Analytics will not only present your healthcare maintenance data in relation to your healthcare requirements (like reports for TJC or DNV inspections), they'll allow you to drill down into details to get more information.
CMS Analytics allows you to pick any report or metric, drill down, and even run comparisons. For example, you can choose to look at upcoming PMs for this month and next month, then pull a report for labor hours and decide how best to schedule your technicians for maximum utilization.
In general, taking advantage of your analytics will allow you to see what you're doing well and where you need to improve. CMS Analytics includes a customer satisfaction survey, so you can gain insight into how your work is reflecting and pinpoint areas that need additional support.
You can even analyze your compliance data and choose to switch to an AEM schedule if necessary. For example, one of our clients looked at their data and realized they did not need to schedule as many PMs on their fire doors as needed. By moving to an AEM schedule, this facility saved thousands of dollars, and the team was able to spend their time better on other PMs.
Implementing best practices with a healthcare maintenance management system
We hope these best practices for your maintenance management system will help you go above and beyond when managing your healthcare maintenance departments. FSI is the only CMMS purpose-built for healthcare maintenance management, and we would love to help increase your team's productivity and efficiency.
To learn more about how FSI's product suite can help you implement these best practices (and more), reach out to our team of healthcare professionals.